What to wear? What to wear?
It's that wonderful time of year, "Party Season", dressing up all flashy and going out dancing or celebrating the new year, and  avoiding the cold in a warm pub with friends. It's one of my favourite seasons, something about the colours changes and they start popping more, with every piece of clothing shining brighter in the dark. In a couple of days the new year, 2023, starts, and with it arrive a host of new hopes and questions. I'm having a little new year's party at my place, and I'm excited to share it with the people I love. All that's left to make up my wind – what should I wear!?I hope this post inspires you to make your own creative celebratory outfits for the start of 2023.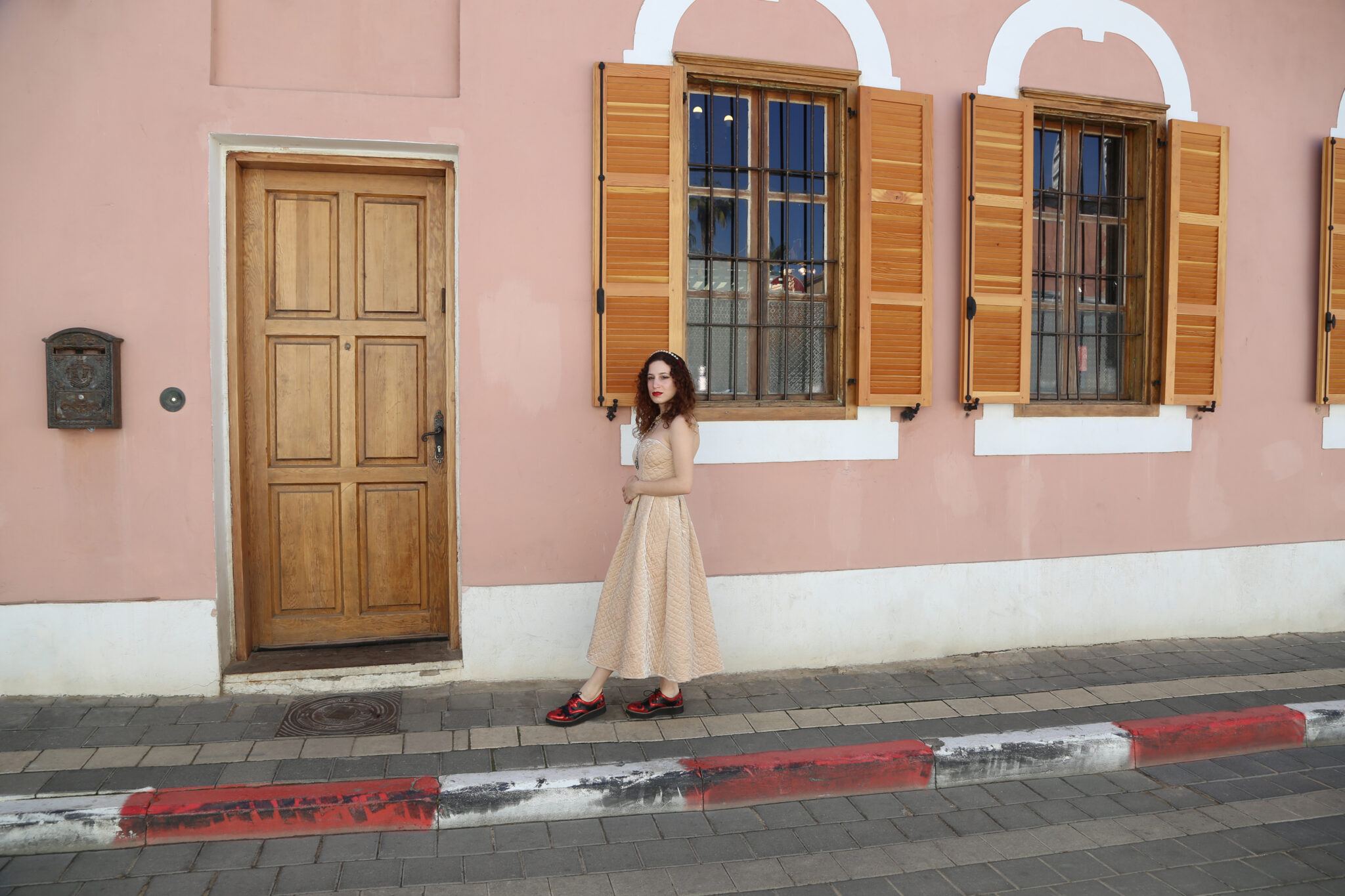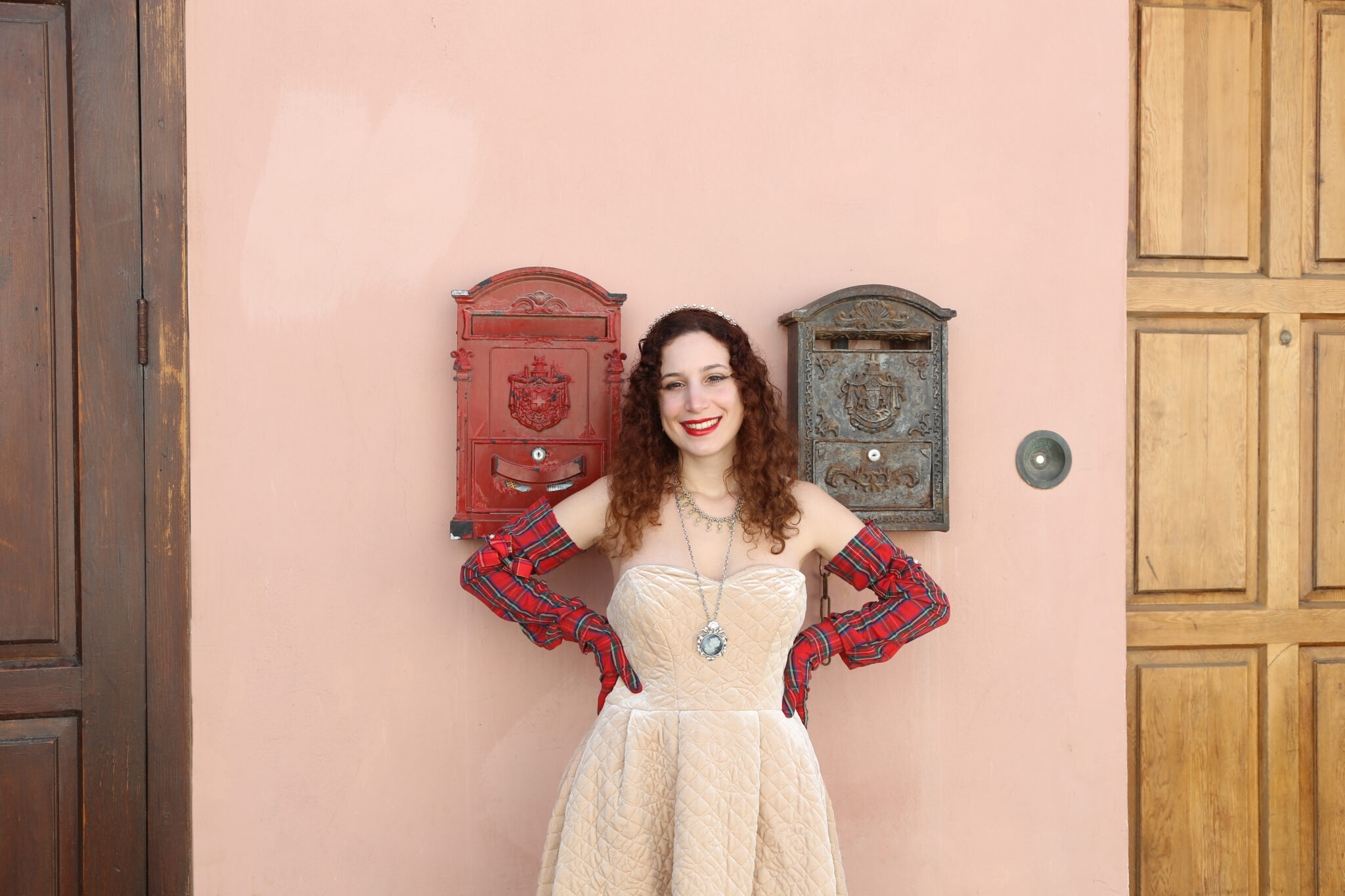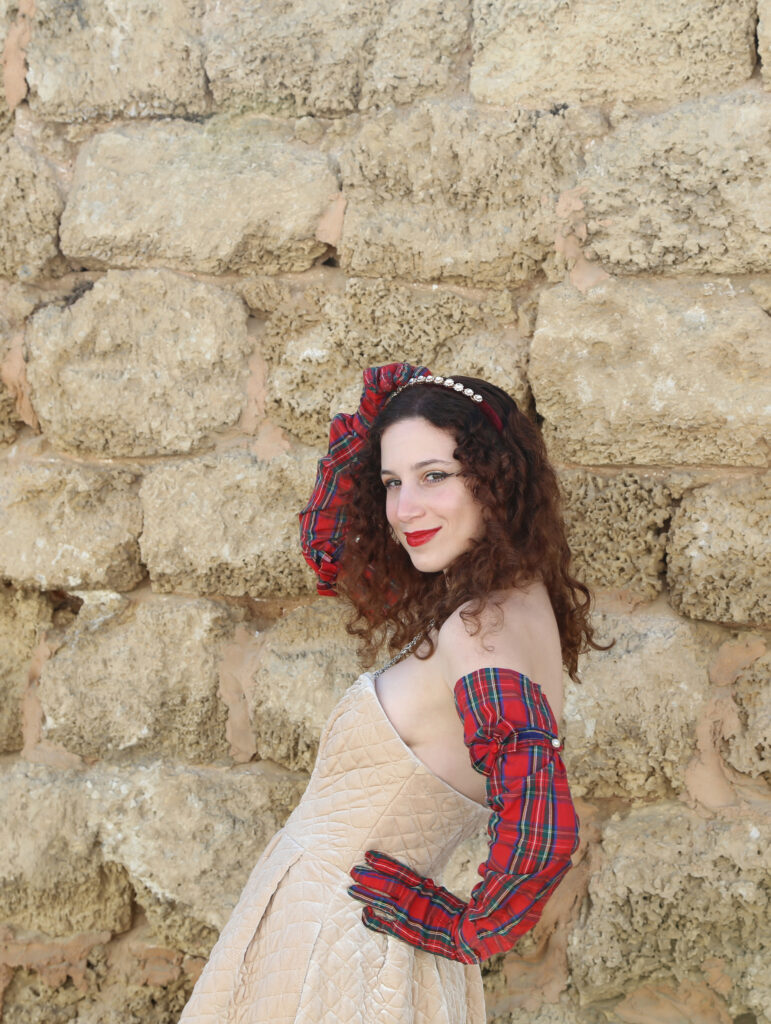 Let's start with my fashion philosophy. Fashion is a great way to take risks, to be creative and think outside the box. This is because the risk itself is quite small whereas the impact it can have on inspiration, creativity, self-confidence, and self-expression is huge. I'm a curious person, and textiles that are out of the ordinary are quick to catch my attention. This is why I fell in love with the dress I'm wearing in the photo above. It's made from a pale velvet  fabric, it's shoulderless, and it reminds me of a warm, comfy duvet. In the spirit of experimentation with irregular fashion I chose to pair it with a pair of long gloves I once sewed out of a chequered shirt. The gloves are perfect for this time of year because they make for another warm layer and their red and green chequered pattern goes so well with the Christmas and New Year's atmosphere. I wanted to add in something glittery – I mean, what's New Year's without a little glitter!? And so, I wore a red velvet and shiny crystal hairband. Additionally, for a little vintage touch I wore a necklace with the image of a woman's profile, as well as a shorter pearl necklace, red lipstick and blue tear shaped earrings and I felt like an alternative princess.
This look is one of my favourites!  It screams 'daytime' because of the hat and the bag but on the other hand the jumpsuit and thin scarf make it very festive, shining as they do in the sun. On the middle right you can see a velvet jacket I added for extra heat (always good to layer). This outfit's colours echo the traditional Christmas red and green harmoniously. This is one I know I'll be coming back to soon!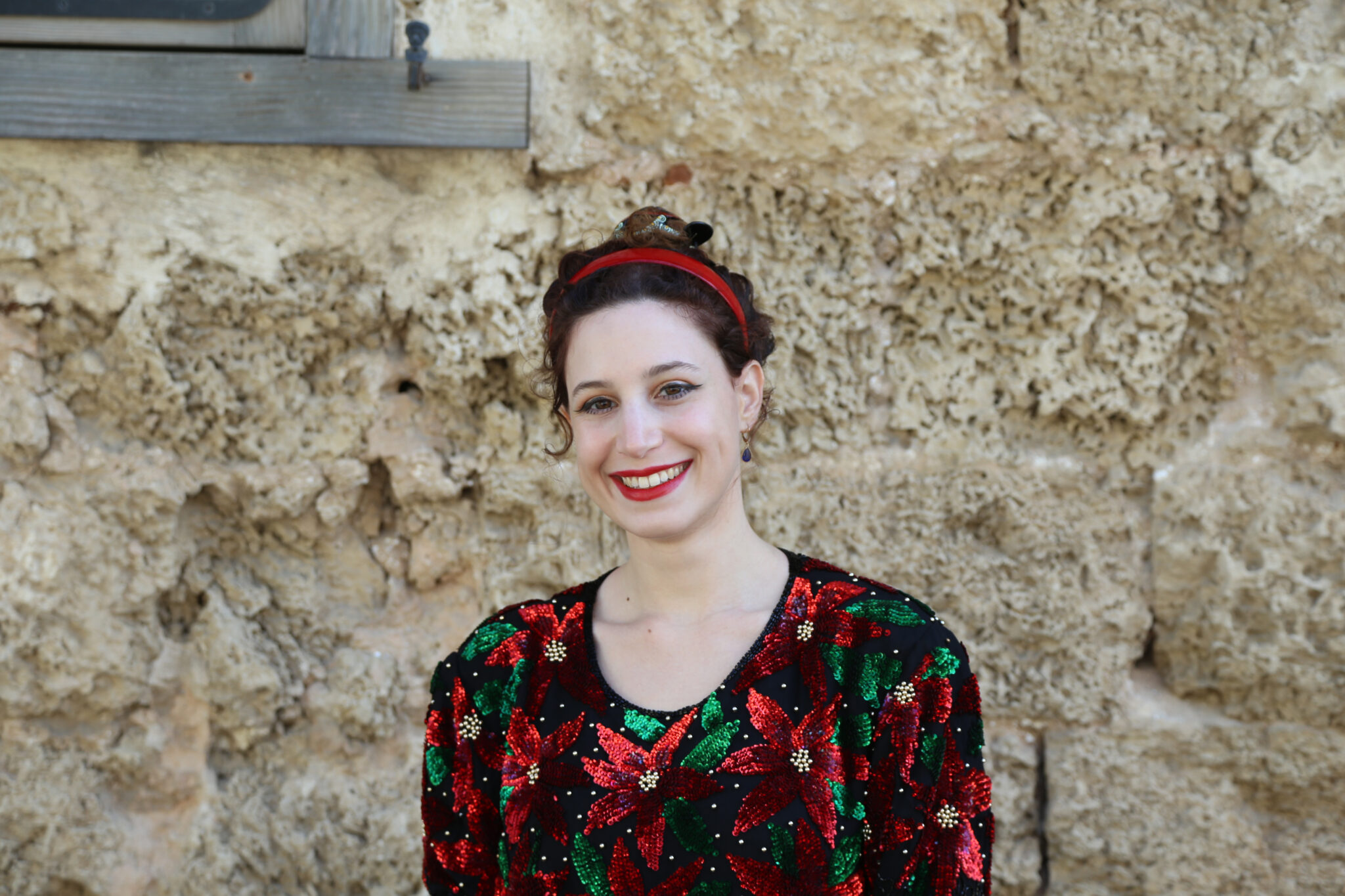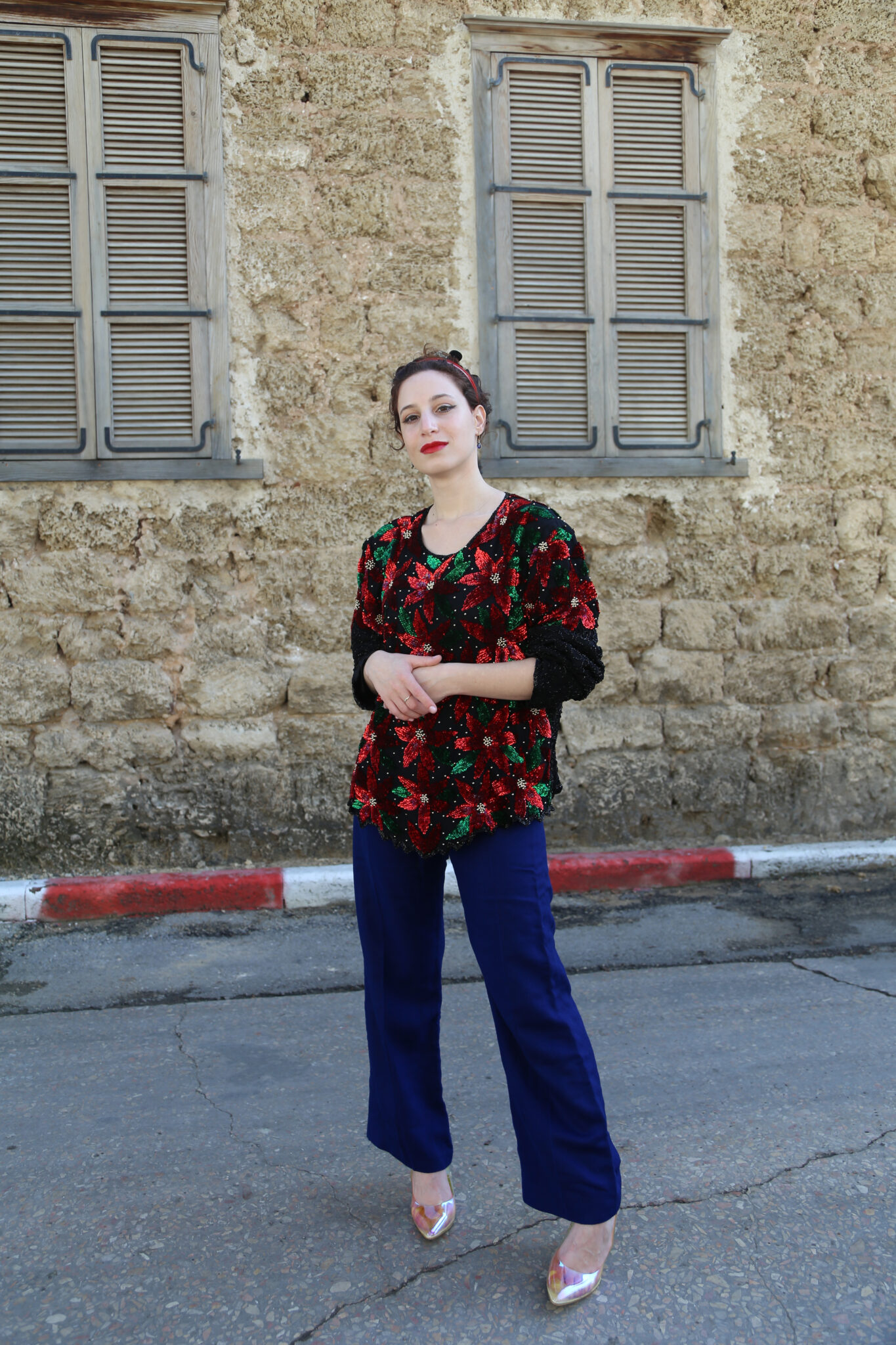 This outfit was built around one of my greatest vintage finds – a silk shirt I found in London. The shirt is covered in beautiful sequins and beads that make up the image of a poinsettia, a beloved flower associated with Christmas and winter. In the past I've worn the shirt with dark jeans (as in this post) and with black tights, but this time I wanted to style outside of the box. I decided to go with a pair of blue woollen pants and make something unexpected and refreshing. I think this blue complements the shirt's metallic red very well. The transparent, holographics shoes were a brilliant gift from my wonderful sister. They're so special, modern Cinderella glass slippers! Finally I put my hair up with a special hairclip, wore a red headband and blue earrings which went really well with the blue pants and the colourful metallic contrast.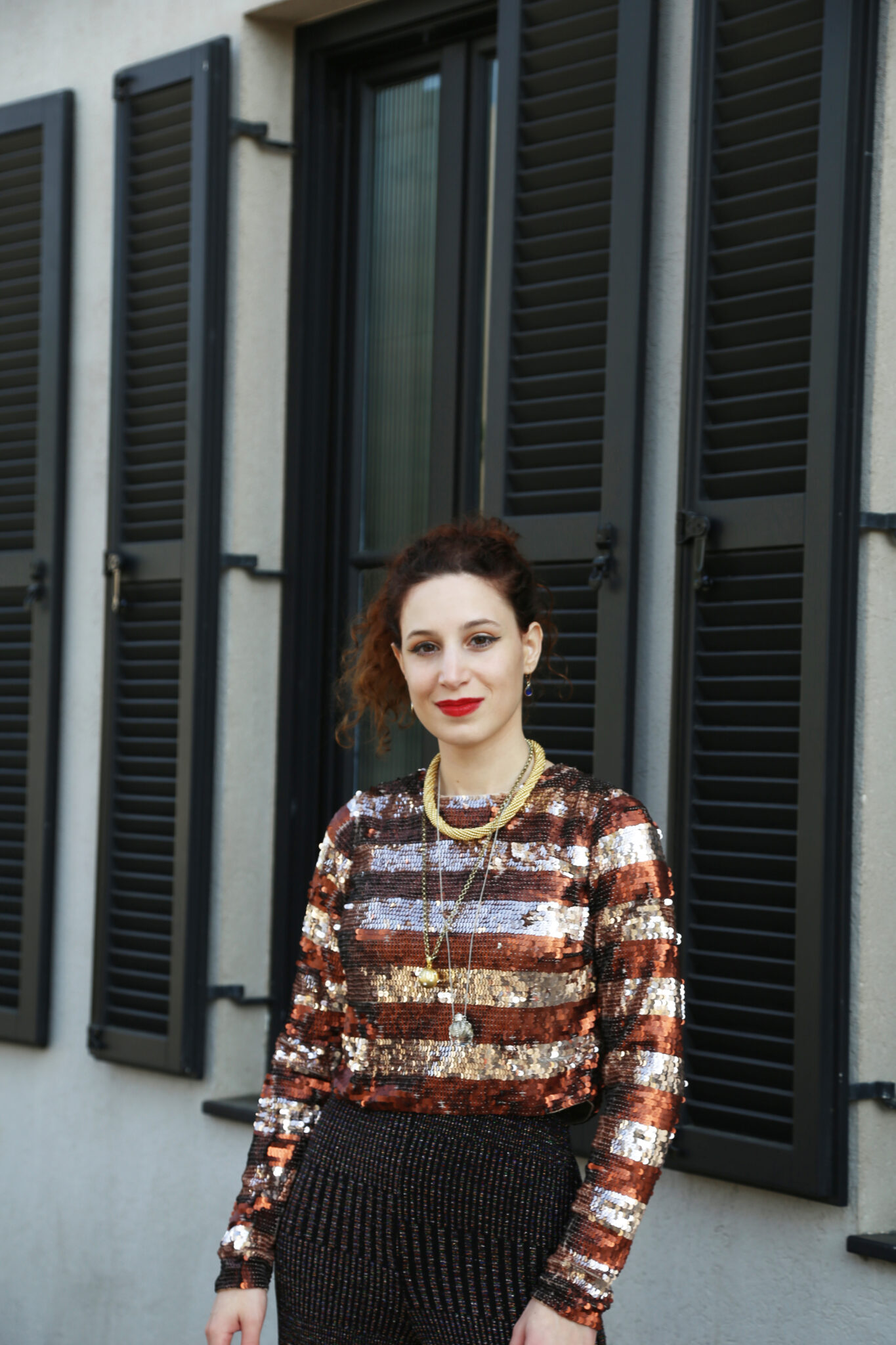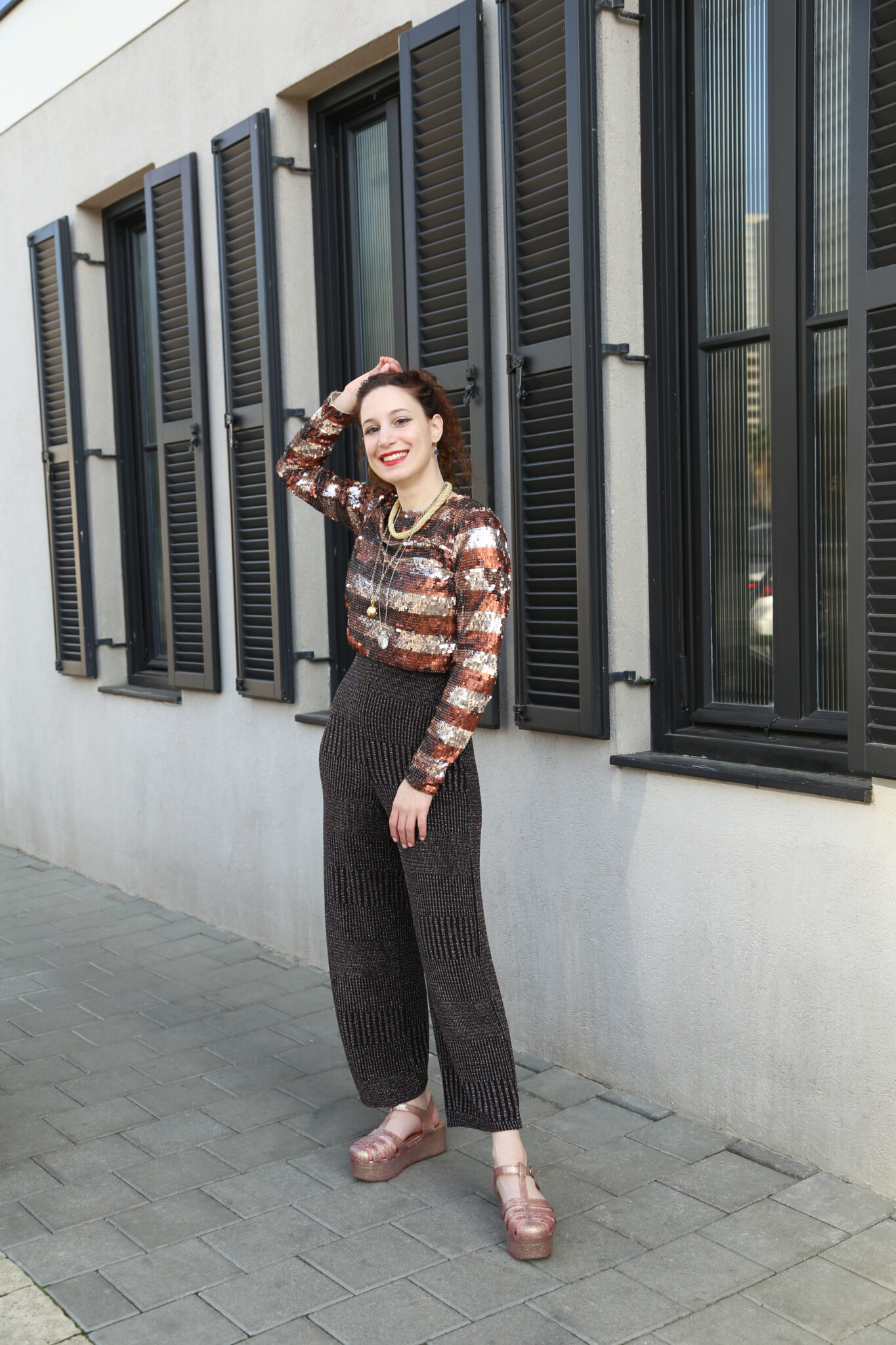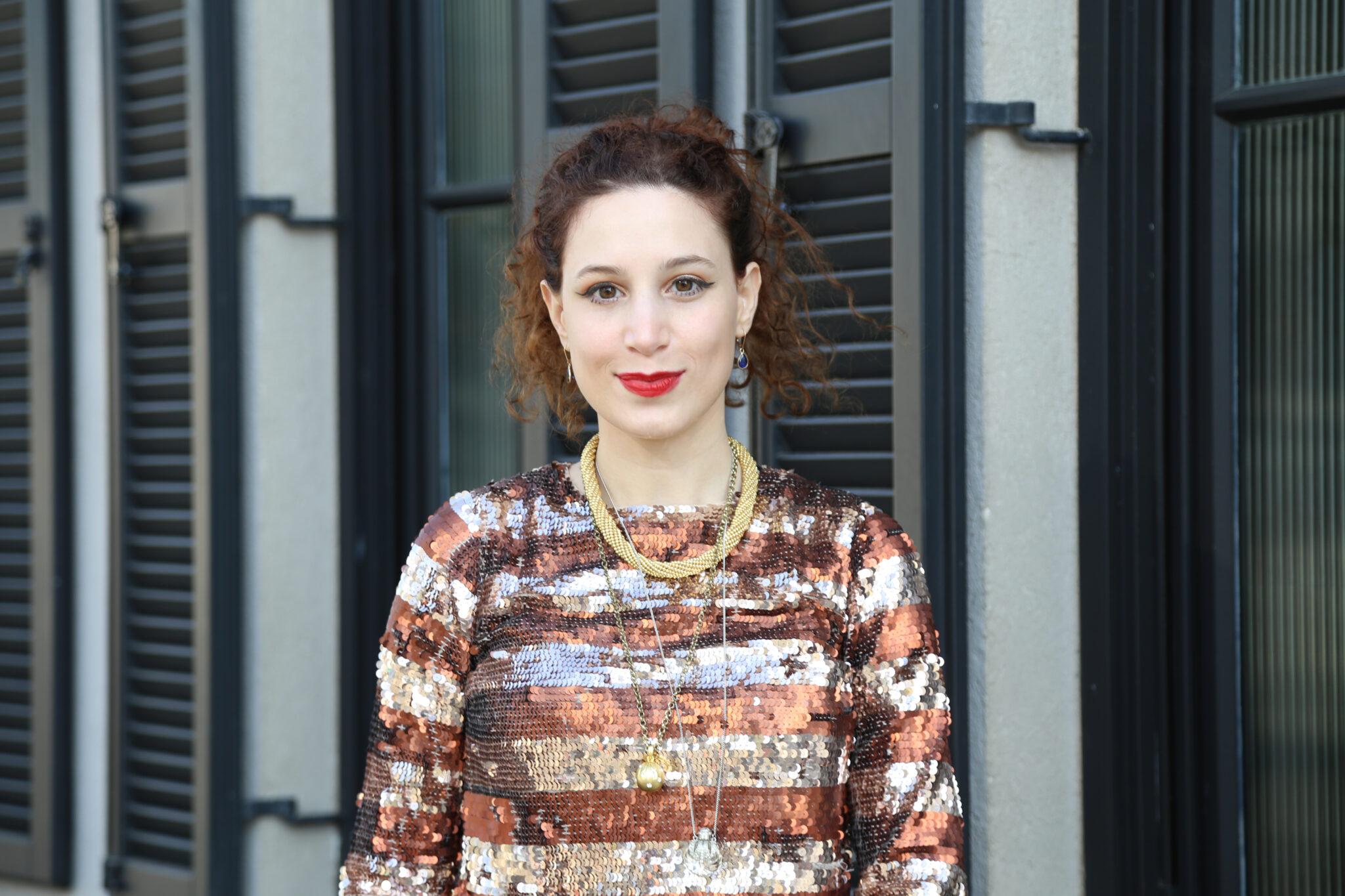 I bought this shirt a few years ago thinking I'd wear it to a party. I chose to wear it over a jumpsuit I bought in London in 2018 after falling in love with it's lurex fabric at first sight. Because the shirt combines sequins of brown (warm colour) and silver (cold colour) I chose to pair it with necklaces of different lengths and metals, giving a looser, rock-'n'-roll vibe. I also wore my nostalgic rose gold sandals, blue earrings, and, most importantly, a high and loose, messy ponytail to complete the glam rock influenced look.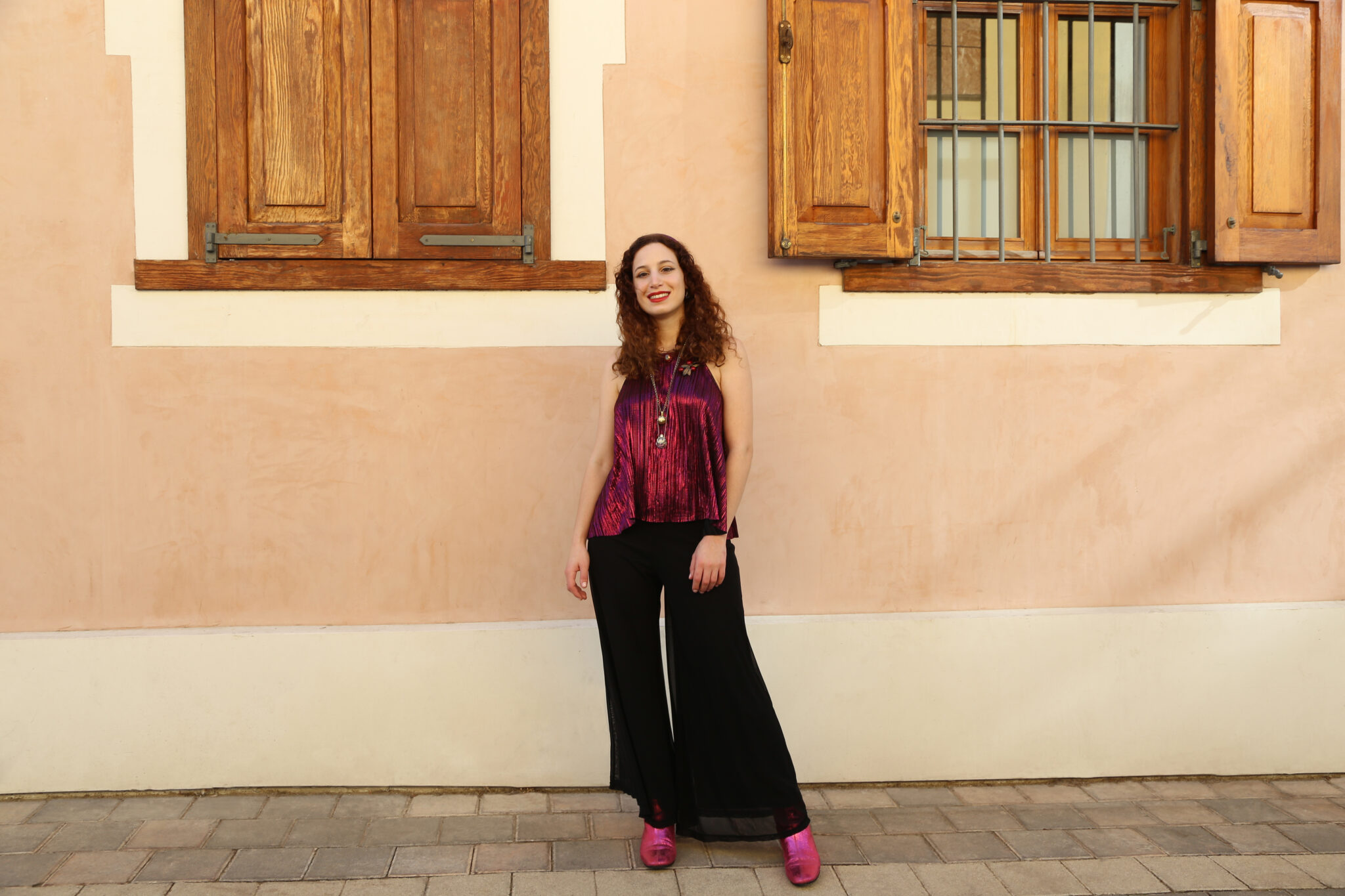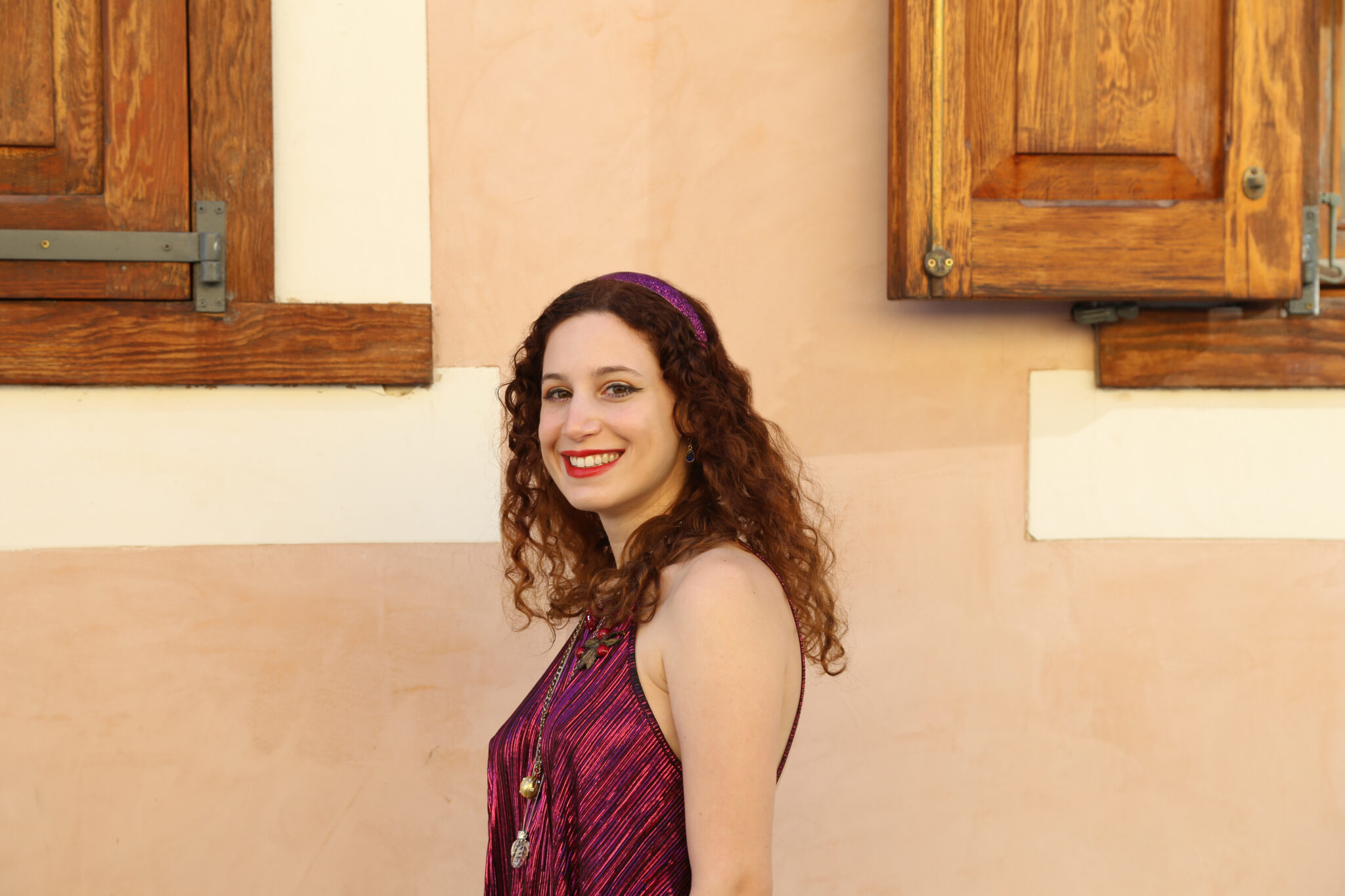 And so we arrive at the final look. Lovable and pink, I started building this one with the shirt, too. I went for a metallic tank top with an open back and a loose silhouette. The top's fabric is cool and quite special, a kind of pleated fabric that strengthens the metallic effect the shirt has and refracts the light even more. I paired this with an even looser pair of pants so the whole outfit moves with your body and flows with the wind. I added my mother's Holly pin to the shirt for extra Christmas flair, as well as a trio of necklaces, metallic pink ankle boots and, of course, a brightly glittering pink headband to complete the look.
Now I'd like to hear from you. What do you think of the outfits? What should I wear for New Year's?
Have I inspired you to style your own look out of stuff in your closet?
Did you like any of my pieces of clothing in particular?
As always I'm available on social media so you're welcome to follow and contact me there!
-Sapir-